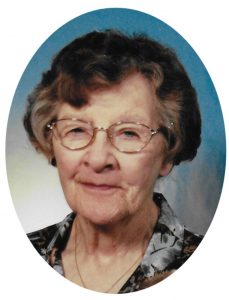 Sr. Ruth Ann Wirtz, age 95 of the Srs. of St. Francis in Oldenburg, died on Easter Sunday, April 21, 2019, at the convent.  Born October 8, 1923 in Princeton, Indiana, she is the daughter of Otilda (Nee: Schafer) and Edward Wirtz.
The fifth of six children, her father owned a restaurant and her mother was a housewife busy with the family, yet both found time to teach their children about their faith.  Sr. Ruth Ann and her siblings attended St. Joseph School in Princeton where the family became familiar with the Franciscan Sisters.  She continued her education at the Immaculate Conception Academy in Oldenburg where her love of music blossomed and where she would follow her call to religious life.
Sr. Ruth Ann took her final vows in 1947.  She earned a Bachelor's degree in music at Marian University and later a Master's Degree in music from Butler University.  Pursuing her love of music, she was organist and music teacher at Our Lady of Lourdes, Little Flower, Holy Trinity and St. Mary Academy in Indianapolis, St. Clement and St. Catherine in Cincinnati, and St. Andrew's in Richmond, IN.  From 1959 to 2011 Sr. Ruth Ann served on the faculty at Marian University, retiring as Associate Professor of Music.
In addition to Sr. Ruth Ann's love of music was her love of her pet dog, Cricket, an abandoned pup on the Marian campus that she and Sr. Joel Franks adopted.  Everyone on campus came to know the Sisters and Cricket, who served as their faithful companion for many years.
While Sr. Ruth Ann considered music as her first love, she was always appreciative of all the love and support she received from her family, her extended Franciscan family and the Marian community. She often counted all her family, friends and the things that enriched her life among her many blessings.
Visitation is Friday, April 26, from 1 – 3 p.m. at the convent chapel. Funeral services follow at 3 p.m. with burial in the convent cemetery. Memorials may be made to the Sisters of St. Francis, P.O. Box 100, Oldenburg, Indiana, 47036 (www.OldenburgFranciscans.org). For online condolences go to www.weigelfh.com.