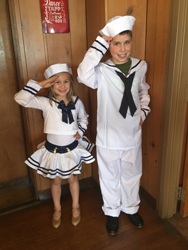 Batesville, In. — Southeastern Indiana Dance, Inc. will hold the Spring Concert Sunday, May 5 at 2 p. m. at the East Central High School Performing Arts Center. The performance is completely free.
The theme for this concert is "City Lights." Lydia Woodward, Director, stated, "All the group dances are to music with the name of a city in the title. Some songs include "Moon Over Miami," "Honolulu Baby," and "Chattanooga Choo Choo." It's going to be a great afternoon of fun and dance!"
The concert includes ballet, modern, musical theater, jazz, hip hop, and tap dances. Additionally, eight solos and two duets.will be presented. Choreography is by Woodward, Brittany Nicholas, and Toni Miles.
Students, from Batesville, Oldenburg, Hamburg, Sunman, Greensburg, Brookville, St. Leon, Milan,  Dillsboro, Cedar Grove, Moores Hill, Metamora, West Harrison, Rushville, Osgood, Guilford,  and Laurel, IN, range in age from 4 to 18-years-old. They include Charlotte Anderson, Abigail Balash, Madelyn Balash, Abbi Barker, Teagan Barker, Sophie Beck, Aiden Belew, Emerson Belew, Macey Benjamin, Clara Black, Lila Blessing, Allison Bohman, Breanna Bohman, Taylor Bolling, Joy Brewer, Talyan Burkhart, Reece Busch, Riley Callahan, Sophie Cassidy, Madelyn Comparone, Lucy Dole, Rebecca Durham, Sarah Durham, Kaylee Effing, Haley Feiss, Charity Frommeyer, Alexis Gallagher, Nate Geis, Addison Glaub, Eden Goniea, Leah Goodin, Ashley Gowdy, Laine Greathouse, Charlotte Harmeyer, Mary Harmeyer, Kaylee Hochstetler, Mia Hofer, Adriana Hoff, Lily Ison, Annabelle John, Daisy Jordan, Margot Keller, Kate Kinker, Macy Kinker, Stella Lecher, Addisyn Lemmel, Katie Lipps, Addison Luers, Gena Mack, Brielle Maple, Elliana McLain, Francesca Myers, Cate Neuman, Alexis Nobbe, Elaina Nobbe, Abigail Obermeyer, Ava Obermeyer, Lila Obermeyer, Ella Parsons, Annie Patterson, Maggie Peters, Ava Pierson, Jozey Powers, Stella Prickel, Bethany Purvis, Paris Raab, Tess Rennekamp, Madison Rohls, Kaycee Rowland, Kendal Ryan, Lydia Sarringhaus, Solara Scheel, Amelia Spielmann, Eleanor Spielmann, Abe Trossman, Brooklyn Tuttle, London Tuttle, Presley Vanderpool, Lauren Voss, Leigh Walmsley, Sophie Wesseler, Abigail Weigel, and Gabrielle Williams.