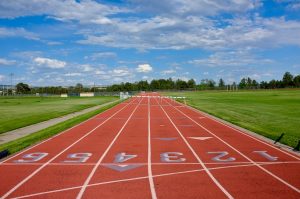 The Greensburg Boys Track & Field team traveled to Decatur Central on Friday to compete in the annual Joe Schott Twilight Invitational. Along with the Pirates and host Hawks, other schools competing were: Brownsburg, Warren Central, Covenant Christian, Herron, Shelbyville, & Greenfield-Central.
5th Place-4 x 800 M Relay (Hunter Butz, Nick Zapfe, Kole Stephens, & Jonathon Ralston)  (9:12.75); Hunter Butz- 800M (2:09.88); Collin Springmeyer- 110H (16.60).
6th Place-Joey Woods- 100M (11.94); Daimon Austin- Long Jump (18'4 ¾"); Matt Boone- Shot (43'7").
Courtesy of Pirates Coach Shawn Ruble.
The Lady Pirates Track and Field team travelled to Indianapolis Friday evening to compete in the Annual Joe Schott Twilight Invitational. The Greensburg Girls placed 5th overall with 49 total points. Ben Davis won the event with 157.5, 2nd Brownsburg (124. 5), 3rd Greenfield Central (95), 4th Shelbyville (61), 6th Decatur Central (37), 7th Covenant Christian (35), and 8th Herron (23).
Lily Grimes was the highest scorer for the Lady Pirates as the Champion in both the shot put event and the discus throw. Grimes threw an incredible series in shot put with all her throws over 42′ and winning the event with her best toss of the night 43'4″. In the discus event Grimes threw a new personal record which was just 2″ shy of the school record. Grimes was crowned the 2019 Joe Schott Invite Champion with a throw of 131'3″ which makes her the 2nd best thrower in Lady Pirate history. Debbie Heger leads the all time list since 1991 with a throw of 131'5″.
Freshman Emily Mangels also had a big night with two personal best times in the 1600 and the 800. Mangels placed 2nd in the 800 in 2:41.85 and 4th in the 1600 with 5:52.87. She also lead the 3200m Relay team to a Runner Up Championship in 11:15.19 with teammates Sophie Nobbe, Emma Hatton and Emma Wilmer.
The 400m Relay team and the 1600m Relay team also placed well during the night with two 5th place finishes. Hilary Ernstes, Kayla Haycock, Koregan Kidd, and Mary West ran a 56.40 in the 4 x 100 while Mangels, Hatton, Ernstes, and Haycock clocked in 4:41.43 in the 4 x 400. Another highlight of the evening was Ernstes running a career best in the open 400 with 1:08.75.
The Lady Pirates will compete again at home this Tuesday against Connersville and New Castle.
Courtesy of Pirates Coach Katina Tekulve.