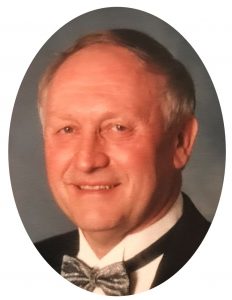 Norman E. Meyer, age 75 of Batesville, died Friday, April 12, 2019 at Margaret Mary Health.  Born May 6, 1943 in Batesville, he is the son of Rosemary (Nee: Bedel) and John Meyer.  He served in the Army reserve and following his release he would become a tool and die maker for the Hill-Rom Company, retiring in 2007 after 45 years.  He married Lucy Burkhart on May 11, 1968 at St. Mary's Church in Greensburg.  A member of St. Louis Church, he also belonged to the Batesville Knights of Columbus Council #1461 and the Batesville Athletic Boosters.
Family was a priority with Norman and he loved spending time with his granddaughters, although his family indicated he was a man of few words.  His other passion was all things John Deere.  He farmed with his brother 54 years, just recently selling the farm.  His favorite task was being in the combine during harvest.
As a tool and die maker, Norman liked to tinker and fix things.  The kids used to leave their broken toys next to his lunch box for him to fix.  As they grew, he enjoyed watching all three of the boys play high school basketball and then later, his granddaughters.  He and Lucy have traveled to all 50 states with an Alaskan cruise and a trip to Hawaii among their favorites and a cold Budweiser or screwdriver every now and then was a good thing.
Norman is survived by his wife Lucy; sons Brian (Mindy), Daryl (Carol) and Alan (Lana) Meyer, all of Batesville; sisters Shirley Rennekamp of Sunman, Mary Moorman of Oldenburg, Janet Rehberger of Oldenburg; brothers John Meyer of Greensburg, Harry Meyer of Bloomington, Indiana, Greg Meyer of Hamburg and five grandchildren.  In addition to his parents, he is also preceded in death by sister Laverne Goedl and brothers Gerald and Virgil Meyer Sr.
Visitation is Tuesday, April 16th, from 4 – 7 p.m. at the Weigel Funeral Home.  Funeral services are 10 a.m. Wednesday, April 17th at St. Louis Church with Rev. Stan Pondo officiating, followed by burial in the church cemetery.  The family requests memorials to the Batesville Athletic Boosters or St. Louis School.