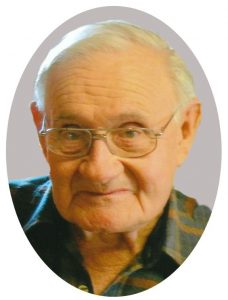 Louis J. Siefert, age 87 of Oldenburg, died Saturday, April 13, 2019 at St. Andrew's Health Campus.  Born May 8, 1931 in Franklin County Indiana, he is the son of Emma (Nee: Moorman) and Quirin Siefert.  He married Marjorie Grieshop November 22, 1951 at St. Anthony's Church in Morris.  Louie served in the army during the Korean War from 1952 – 1954, earning two Bronze Stars.  A lifelong farmer, he was also a carpenter for 25 years and worked 10 years in maintenance for Margaret Mary Health.  He was a member of Holy Family Church and the Ripley County V.F.W. Post #3183.
Louie dearly loved his grandchildren.  Being with them always brought a smile to his face.  The farm was special for him too and he liked looking after his cattle.  The farm is being honored this year for 150 years.  After Marjorie died, Louie learned to cook and became quite good at it.  His apple pies and chicken and dumplings got rave reviews.  He was a quiet person by nature, but to paraphrase a line from the movie A Christmas Story, the family teased that Louie could "in the heat of battle weave a tapestry of profanity that as far as anyone knows is still hanging in the air somewhere over Lake Michigan and was a marvel to behold."
He is survived by his daughters Sue Waechter of Batesville, Patti Valliere of Champlin, Minnesota, Nancy Meyer of Batesville; son Dennis Siefert of Batesville; sister Cathy Sparks of Milan, Indiana; eleven grandchildren; three great grandchildren and special friend Barb.  In addition to his wife and parents, he is also preceded in death by his son Greg Siefert; sister Emma Siefert and brothers Mike, Robert and Gerald Siefert.
Visitation is Wednesday, April 17th, from 4 -7 p.m. at the Weigel Funeral Home.  Funeral services are 9:30 a.m. Thursday, April 18th at the Srs. of St. Francis Chapel due to renovations at Holy Family Church with Rev. Carl Langenderfer O.F.M. officiating.  Burial will follow in the church cemetery with military honors conducted by the Ripley County V.F.W. Post #3183 and the Prell-Bland American Legion Post #271.  Memorials may be made to the Margaret Mary Health Foundation Hospice or the Holy Family Capital Improvement Fund.