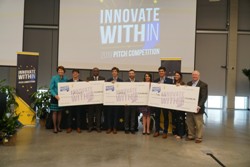 Indianapolis, In. — High school students across Indiana gathered in Indianapolis today for the final round of the second Innovate WithIN™ pitch competition, pitching their ideas to a panel of judges from Indiana's entrepreneurial community. After advancing through two rounds of the competition, LyfePack from Rivet High School in Vincennes, Indiana, was named the overall winner of the statewide initiative hosted by the Indiana Economic Development Corporation (IEDC), Indiana Department of Education (DOE) and Ball State University.
"Through competitions like Innovate WithIN, we're not only growing Indiana's culture of innovation and creativity, but we're also empowering our students to develop and execute their entrepreneurial ideas at an early age," Governor Eric J. Holcomb said. "We're proud of all the students who participated in today's competition, and are confident they will be the ones to keep Indiana on the path to success for years to come."
LyfePack, along with all of the final 11 teams, will receive mentoring services through the StartEdUp Foundation, which focuses on engaging students and teachers through innovation and entrepreneurship in the classroom. In partnership with the IEDC, StartEdUp will create a student accelerator program for the Innovate WithIN state finalists, helping them develop and execute their ideas as well as providing access to the company's network of mentors and advisers.
"Ball State University is proud to partner with the Indiana Economic Development Corporation and the Indiana Department of Education on Innovate WithIN," said Ball State President Geoffrey S. Mearns. "This partnership encourages innovation, one of our university's enduring values. Since our founding in 1918 by a family of entrepreneurs, our university has been at the forefront of educating business leaders who have helped the state sustain economic success. This initiative helps set the next generation of entrepreneurs on a trajectory toward fulfilling careers and meaningful lives."
In second place, Calm Balm, led by Kaleigh Newton and Allison Santa Rita at Noblesville High School, will each receive $2,500. In third place, RearVue, led by led by Andrew Romes, Alex Termini and Faith Spencer at Hobart High School, will each receive $1,500.
The other finalists, who were honored with certificates of achievement, include:
3D Printing Filament Waste, led by Steven Bass, Austin Robinson and Daniel Joven at Greenfield-Central High School;
Empathy Easel, led by Kristina Rea at Adams High School in South Bend;
Kolt Electronic Solutions, led by Koltan Hauersperger and Brooks Wathen at Jennings County High School in North Vernon;
Millie & Mabel, led by Lillian Herrmann at Manchester Jr.-Sr. High School in North Manchester;
Other Side, led by Kaikeyi Paxton and Karissa Nielsen-Baker at Purdue Polytechnic High School in Indianapolis;
Puma Sips Coffee Shop, led by Zoey Lewis and Dawnyai Jones from Indianapolis Metropolitan High School;
Student Services, led by Isabel France, James Booth and Kallen Kelsheimer from Wabash High School; and
Urban Harvest, led by Jesse Kogge at the Academy of Science and Entrepreneurship in Bloomington.
LyfePack was also awarded the People's Choice Award for receiving the most votes during the Innovation Showcase, which gave each team the opportunity to display their ideas for a business, product, service or venture while allowing the public to vote for their favorite idea at the state finals.
"With amazing teachers at the helm, Indiana's classrooms have become incubators for innovation and entrepreneurship," said Dr. Jennifer McCormick, Indiana Superintendent of Public Instruction. "The Innovate WithIN pitch competition allows students to showcase such skills. I am proud of the students and all those who have supported these talented kids."
Innovate WithIN is Indiana's first statewide high school pitch competition, drawing 158 online applications from 422 Hoosier students at 88 high schools. Students were asked to work individually or in small groups to submit an innovative idea for a business, product, service or venture. After completing video pitches and regional competitions, the final 11 teams, representing Hamilton, Hancock, Jennings, Knox, Lake, Marion, Monroe, St. Joseph and Wabash counties, were invited to Indianapolis to pitch their idea to a panel of judges.
The judges of today's competition were Indiana Secretary of Career Connections and Talent Blair Milo; Chris LaMothe, CEO of Elevate Ventures; Elaine Bedel, president of the IEDC; John Thompson, chairman and CEO of Thompson Distribution Company; Krystal Geyer, assistant director of the Entrepreneurship Center at Ball State University; and Matt Kriech, COO of Biosynthetic Technologies.
As part of Governor Holcomb's Next Level Agenda to make Indiana a hub for innovation and develop a 21st century skilled and ready workforce, the state is committed to helping cultivate innovative ideas in the classroom. The Innovate WithIN™ pitch competition fosters an entrepreneurial spirit among our leaders of tomorrow, empowering students to hone their innovative thinking.