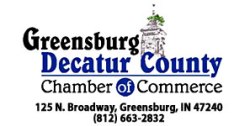 Greensburg, In. — The Greensburg/Decatur County Chamber of Commerce and the Economic Development Corporation Greensburg Decatur County will be hosting a job fair on Thursday, March 28, 2019 at Greensburg City Hall.
The job fair will feature area employers looking to fill current and future positions in their workforce. The job fair will open at 1 p.m. and close at 7 p.m. There is no cost to attend for job seekers.
Potential employees are encouraged to dress for success and bring copies of their resumes with them as they explore opportunities from area businesses and corporations.
Individual rooms will be set up for immediate interviews if local employers so desire and the event will also allow applications to be filled out online if that is the preferred method of the employer.
Businesses, vendors or sponsors may contact the Greensburg/Decatur County Chamber of Commerce about booth space at 812-663-2832 or via email at execdirector@greensburgchamber.com