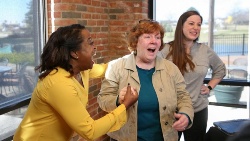 Osgood, In. — Osgood resident, Beverly Fulkerson has won a major prize from the HGTV Network.
The network announced Wednesday she was the winner of 2019 HGTV Dream Home- a prize package valued at $2.3 million.
The package includes a completely furnished home in Whitefish, Montana, a 2019 Honda Pilot and $250,000 from Rocket Mortgage by Quicken Loans.
Beverly and her husband will be traveling to Montana in the coming weeks to get acquainted with their new property.
She was randomly selected from an estimated 135 million entries.
Watch her reaction to the news by clicking here.