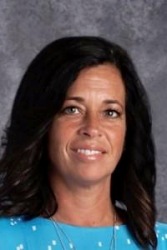 Brookville, In. — Third-grade teacher at Brookville Elementary School, Ms. Robin Lee has been named as the "2019 March Educator of the Month."
Ms. Lee graduated from Franklin County High School, Ball State University and began her teaching career in the Richmond Community School Corporation.
After teaching in Richmond for three years, Ms. Lee made the decision to return to Franklin County.  She was hired as a fifth-grade teacher at Brookville Elementary School. Now in her 21st year in Franklin County, Ms. Lee has taught a variety of grade levels, as well as serving as a Reading Interventionist.
In addition to her teaching responsibilities at Brookville Elementary Ms. Lee is also a member of the school improvement plan committee, the social committee and serves as a coach for Girls On The Run.
When not at school, Ms. Lee is extremely involved in the community.  For the past six years she has served on Franklin County's United Way Board, where she has served as Campaign Committee Chair.   She has also dedicated numerous hours working with the United Way's Student Board, assisting with their community projects. Ms. Lee is currently president-elect for the Brooksville Kiwanis.
The purpose of the "Educator of the Month" program is to recognize outstanding Franklin County educators who demonstrate excellence in the classroom, leadership in the school, dedication to the students, and involvement in the community.  Nomination forms for "Educator of the Month" can be found on the school corporation website