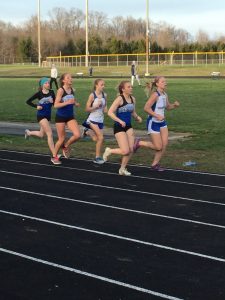 The Batesville High School varsity track team traveled to the University of Indianapolis Saturday to compete in the indoor state qualifier meet.  The Bulldogs had many great performances as they competed with over 20 teams who were mostly 4A-5A schools.  This wasn't a team scored meet, but a chance for the kids to compete to get times and distances to try and qualify for the indoor Hoosier State Relays meet, which is this coming Saturday, March 23rd at IU in Bloomington.  This meet is split into 1A-3A schools and 4A-5A schools competing against each other.  Athletes will know in a few days if they have made the cut to compete in this meet. After all results are reported, they will need to be one of the top 24 times/distances in the state of their event to qualify.
The Bulldogs had two 1st place finishes on the day and they were Ean Loichinger in the 3200m run, beating the field by 9 seconds as he crossed the finish line at a person best time of 9:48.85 and the girls 4 x 400m relay of Katie Olsen, Liz Loichinger, Stephanie Nobbe and Carley Pride racing through at 4:28.78.
Other top performance of the day were:
Carley Pride-3rd in high jump with a PR jump of 4'10"
Girls 4 x 800m relay of Liz Loichinger, Lily Pinckley, Trysta Vierling and Katie Olsen-3rd
Gabby Gibbs-4th in high jump
Girls 4000m DM Relay of Lily Pinckley, Carley Pride, Katie Olsen and Liz Loichinger-4th
Stephanie Nobbe-5th in pole vault
Kent Meyers-5th in high jump PR jump of 5'8″
Boys 4 x 800m relay of JJ Kuisel, Benjamin Moster, Nathan Villani and Adam Moster-5th
Boys 4000m DM Relay of Adam Moster, JJ Kuisel, Benjamin Moster and Ean Loichinger-5th
Roxy Hund-8th in the 60m hurdles
Other personal bests for the day were:
4 x 800 splits-Katie Olsen, Nathan Villani, Benjamin Moster
4 x 400 splits-Carley Pride, Kavin Saravanan, Johnathon Lynch, Benjamin Moster
High Jump-Carley Pride, Kent Meyers, Gabe Gunter
Long Jump-Isaiah Riffle
Congratulations to everyone who competed!  A list will be provided in a few days of who has qualified for the indoor state meet.
Courtesy of Bulldogs Coach Lisa Gausman.