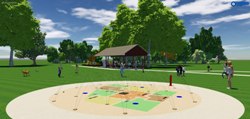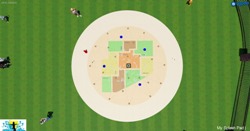 Greensburg, In. — The splash pad at Rebekah Park in Greensburg is taking shape thanks to public and private efforts.
The flat, circular pad will display Decatur County, the nine townships and towns. A fence will also be added between the water feature and the roadway. The concept is designed to help children learn the geography of Decatur County.
Officials say the goal is to have the splash pad open to the public on or about Memorial Day. Delta Faucet and the Decatur County Community Foundation have been key in getting the project underway.
Donations can be made to the Decatur County Community Foundation, 101 E Main Street, Greensburg, In. 47240. Donations can also be made online here.