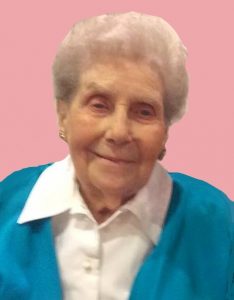 Mary C. (Wunderlich) Mattingly, age 101, of Aurora, Indiana, passed away Friday March 15, 2019 in Cincinnati, OH.
She was born December 22, 1917 in Aurora, IN, daughter of the late Henry F Wunderlich and Catherine (Steigerwald) Wunderlich.
For over 20 years, Mary worked as the office administrator for RR Mattingly Law Office. She was a member of St. Mary's Catholic Church, St. Mary's Daughters of Isabella, Past President of St. Mary's School Mother's Club, Girl Volunteers, Republican Women's Club, Merry Makers, and was an active St. Mary's Church Volunteer. Mary was a very devoted and faithful Catholic. She was an inspiration to others, especially her children, grandchildren, and her fellow residents at St Margaret Hall. She left a legacy for her family by displaying her faith and her zeal for life until passing from this life.
Mary is survived by children, Carol A (Douglas) Hallett of Cincinnati, OH, Paul R (Elizabeth) Mattingly of Cincinnati, OH; six Grandchildren, Andrea (Tom) Pellegrino, Theresa Hallett, Ann (David Stewart) Mattingly, Michael (Michelle) Mattingly, David (Laura) Mattingly, Stephen (Amy) Mattingly; great-grandchildren, Andrew, Alyssa and Adam Pellegrino; great grandsons, Theodore, Thomas, and Leopold Mattingly.
She was preceded in death by her father, Henry F Wunderlich, mother, Catherine B Wunderlich, by her loving spouse of 50 years Richard Mattingly, brothers George Wunderlich, John Wunderlich, Charles "Pete" Wunderlich, and Fred Wunderlich.
Friends will be received Tuesday, March 19, 2019, from 10:00 am – 11:00 am at the St. Mary's Catholic Church, 203 Fourth Street, Aurora, Indiana.
Mass of Christian Burial will be held at St. Mary's Catholic Church, Tuesday at 11:00 am following visitation.
Interment will follow in the River View Cemetery, Aurora, Indiana.
Contributions may be made to the St. Mary's Church, St. Margaret Hall, Hillforest or Aurora Life Squad. If unable to attend services, please call the funeral home office at (812) 926-1450 and we will notify the family of your donation with a card.
Visit: www.rullmans.c