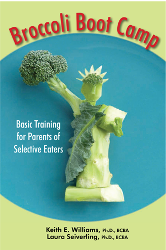 Muncie, In. — A Ball State University special education professor has co-authored a comprehensive guide for parents who want their picky children to diversify their diets.
Broccoli Boot Camp, a book and accompanying website, presents commonsense methods to successfully expand children's diet and preferences for healthy foods.
The materials were developed by Laura Seiverling, a special education professor in Ball State's Teachers College, in partnership with Keith Williams, a pediatrics professor at the Penn State College of Medicine.
"A recent study showed one in five children never eat vegetables — except for potato products like fries and chips," said Seiverling, who specializes in applied behavior analysis and pediatric feeding disorders. "We know selective eating is a significant problem, and one parents often want to address.
"We also know that there are plenty of general suggestions out there on addressing food selectivity, picky eating, or selective eating, but families and caregivers have few resources with techniques that are comprehensive, structured, and systematic," she said. "That is why we wrote 'Broccoli Boot Camp.' This book was originally designed as a parent resource for patients seen in our clinical practices. We have made it more widely available so families can help their children learn to eat a range of healthy foods at home, hopefully without the need of additional clinical intervention."
The book's authors have a few simple tips for parents:
Introducing small bites of new foods is a good way to start. Initial bite sizes can be as small as a grain of rice. Only after a child starts eating small tastes without difficulty, gradually increase bite sizes.
Repeated taste exposure is key.  In general, a food must be tasted between 10-15 times in order to develop a preference for that food.  Most parents often give up after three or fewer exposures if their children did not appear to like a particular food.
.
Use rewards for tasting new foods. Positive reinforcement, such as praise or brief access to preferred activities, will often provide the needed motivation. After a child tastes a new food on multiple occasions, he or she will likely develop a preference for that food and begin to eat it regularly.
What parents say and do during mealtimes matters. Focus on reinforcing the behaviors you want to see improve during mealtimes and avoid getting into "mealtime battles" with your child at the dinner table. If your child screams and cries during mealtimes, remain calm.