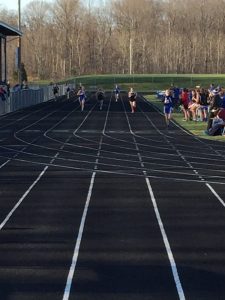 A small group of Greensburg Track and Field athletes traveled to Crawfordsville Saturday to compete in the Wabash College Hoosier State Relays Qualifier. Daimon Austin and Joey Woods both advanced to finals and placed 2nd and 3rd overall with indoor Personal Records in long jump. Austin jumped a career best of 20′ 2″ while Woods leaped a new indoor PR of 18′ 7.75″.  The boys and girls distance relay teams also performed well. Both 3200m relay teams placed 2nd with new and improved times from a week before. Jonathon Ralston, Sage O'Mara, Nick Zapfe, and Kole Stephens ran a 9:19.97 with their runner up finish. Emily Mangels, Emma Hatton, Emma Wilmer, and Brenner Hanna clocked in at 11:02.92 for 2nd.
The boys 4000m Distance Medley Relay team of Andrew Johnson, Zapfe, O'Mara, and Stephens placed 5th in an event new to each team member. Johnson ran a 1200, Zapfe a 400, O'Mara an 800, and Stephens finished the race with the mile for a team total of 12:28.90 earning them 5th place. The girls groups of Mangels, Wilmer, Hatton and Hanna placed 2nd in the 4000m Distance Medley Relay.  It was a close comeback photo finish as Hanna closed a 100m gap between her and the Terre Haute South leader during the mile portion of the DMR. The Greensburg girls came within 1/2 second of being the meet DMR champions with Hanna's 5:33 mile split.
Another small group of Pirates will be in action on Friday night at Taylor University for a last chance qualifier for the Hoosier State Relays.
Preview attachment results.pdfresults.pdf71 KB
Courtesy of Pirates Coach Katina Tekulve.