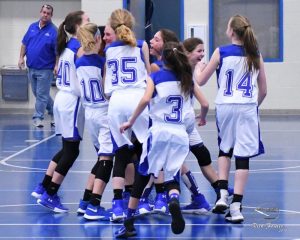 The 8th Grade Batesville Lady Bulldogs revenged a 17 point earlier season lose to the Greendale Tigers last night with a 40-30 victory to advance to the championship game of the SEI Tourney.
The Bulldogs played a great defensive game, and were the more aggressive team as any loose ball had two or three girls getting on the floor for it.  Offensively the Lady Bulldogs were lead by Emma Weiler with 24.  Other scorers for the Bulldogs were Makayla Granger with 9, Ava Hanson with 4 and Megan Meyer added 3.  The Lady Bulldogs now have a seasonal record of 12 wins and 3 loses.
The Lady Tigers were lead in scoring by Lizzie Redar with 10 points.  Other scorers for the Lady Tigers were Ivy Hinkle and Elle McMullen each with 6, Molly Steuer added 4, and they got 2 points each from Nicole House and Holloway.
Courtesy of Bulldogs Coach Jack Smith.