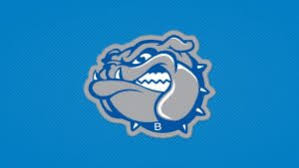 The Batesville High School Boys Basketball team won the sectional title over the weekend  at Greensburg and will now play in the regional at Southridge's Memorial Gym in Huntingburg on Saturday, March 9. The Bulldogs will play Princeton at 11 a.m. (EST). The championship game will be played at 8 p.m. (EST).
Tickets are currently on sale in the BHS athletic office for $10 (K-adult). Single session tickets are available at the gate on Saturday.
Sectional t-shirts will go on sale Thursday in the athletic office for $15. T-shirts will also be on sale during lunch at both BHS and BMS on Thursday.
The team will have a community night at Izzy's at Hillcrest on Thursday from 5:30-7:00 p.m. Some of the players will speak at 7 p.m. to close the event. Everyone is invited to come out and support the Bulldogs.