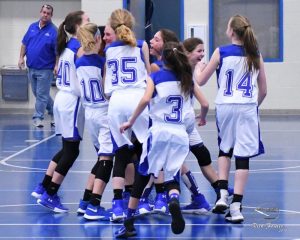 The 7th Grade Lady Bulldogs lost 27-20 against the South Ripley Radiers last night to finish out the 2019 season.  As they did all season, the girls fought to the end of game and played aggressive on both sides of the floor.
Leading the way scoring was Rachel Lamping with 8 points; followed by Elaney McGuire 5 points; Renee Lecher 2 points; Josie Meyer 2 points; Billie Puente 2 points; and Kaylie Raver 1 point.
The Lady Bulldogs finish the season  5-9.  Coach Weiler would like to thank the girls for a great season.  He has never had a group work harder than this team.
The 7th grade Bulldogs and their coaches would like to thank all the fans, teachers, administrators, parents, and students for their support throughout the season.  Go Bulldogs!
The Batesville 8th Grade Lady Bulldogs defeated the South Ripley Lady Raiders last night 25-16 to advance to the second round of the SEI Tournament.
The Lady Bulldogs overcame a horrific shooting first half which saw them trailing at halftime 6-2.  They picked up the defensive intensity in the second, and forced turnovers that lead to offensive scoring chances. Offensively the Lady Bulldogs had only two players in the scoring column. Makayla Granger lead all scorers with 14 points and Emma Weiler had 11.  The Lady Bulldogs now have a seasonal record of 11 wins against 3 losses.
Offensively the Lady Raiders were lead by Brionna Linkel with 6 points.  Other scorers for the Lady Raiders were Katelynn Samples with 5,  2 points each from Emily Flood and Mya McNew, and Lexi Mozingo had 1 point.
Courtesy of Bulldogs Coach Jack Smith.