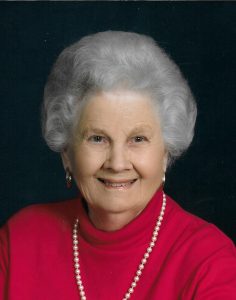 Myrtle Mae (Lyttle) Tufts, 98, of Aurora, Indiana, passed away peacefully at Ridgewood Health Campus on Thursday February 21, 2019 in Lawrenceburg, Indiana.
She was born August 5, 1920 in Owsley County, KY , daughter of the late John Lyttle and Nellie (Riddlen) Lyttle.
She was a life long member of the Mount Tabor United Methodist Church and the United Women's Missionary Group. Her faith was important to her. Myrtle was a 50 year member of the Washington Township Home Ec. Club. She worked over 30 years at Teaney's Grocery Store in Aurora, and 2 years at the South Dearborn High School Cafeteria. Myrtle loved boating, camping, and cooking large meals for church dinners. She loved gathering with friends, family and her church family. She will be greatly missed.
Myrtle is survived by daughter, Diana (Garry) Satchwill of Aurora, IN; daughter-in-law, Sandy Tufts of Greendale, IN; grandchildren, Wayne (Kelly) Satchwill, Pam (David) Miles, Greg Tufts, and Eric (Michelle) Tufts, great grandchildren, Luke (Samantha) Satchwill, Adam (Jessie) Satchwill, Paul Satchwill, Mary Satchwill,Craig (Nikki) Berry, Tyler Berry, Logan Berry, Taylor (Robbie) Jackson, Jerry Tufts, Aaron Tufts, Charlie Tufts, Will Tufts, Drew Tufts, & Brady Tufts; and 7 great great grandchildren.
She was preceded in death by her parents, her loving spouse of 59 years, Joseph Tufts Sr., son , Joseph N. Tufts Jr., siblings, Arthur, Melvin, Everett, Twin, Ray, Claude, Elsie, Marie, & Mildred.
Friends will be received Monday, February 25, 2019, 12:00 (Noon) – 2:00 pm at the First Baptist Church of Aurora, 6060 Blair Road, Aurora, Indiana.
Services will be held at the Church at 2:00 pm with Pastor Bill Secrest officiating.
Interment will follow in the River View Cemetery, Aurora, Indiana.
Contributions may be made to the Aurora First Baptist Church or Our Hospice of South Central Indiana. If unable to attend services, please call the funeral home office at (812) 926-1450 and we will notify the family of your donation with a card.
The family would like to thank the staff at Ridgewood for all the loving care they extended to Myrtle and the family.
Visit: www.rullmans.com