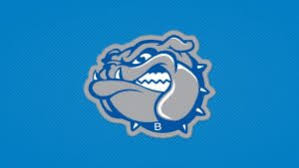 The 7th Grade Lady Bulldogs lost to the Greensburg  44-4 Thursday night.
Josie Meyer led the way with 2 points; followed by Sarah and Rachel Lamping with 1 point each.
The Lady Bulldogs fall to 4-7 on the season and will be back in action Tuesday at home.  Come out and support the Bulldogs!!!
Courtesy of Bulldogs Coach Chris Weiler.
The 8th Grade Batesville Lady Bulldogs upped their seasonal record to 8 wins against 3 loses by defeating the Greensburg Lady Pirates last night 43-17.
The Bulldogs used an aggressive man-to-man defense to produce a 20 point lead at halftime. After a slow third quarter the Bulldogs secured the victory with a fourth quarter defense that held the Lady Pirates to just 6 points.  It was a great defensive effort by the entire team.  Offensively the Lady Bulldogs were lead by Makayla Granger with 17 points.  Other scorers for the Lady Bulldogs were Emma Weiler with 8, Ava Hanson added 6, Sophie Myers, Jadyn Harrington, Lizzy Nobbe, Lil Tinker and Timbrè Davies all scored 2.
The Lady Pirates were lead by Lydia Basler, Sarah Stapp, Jenna Foster and Whitney Huber all scoring 4 points.  Josie Nobbe added 3 points.
Courtesy of Bulldogs Coach Jack Smith.