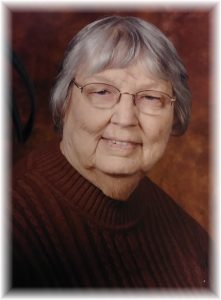 Joanne Marie Dever, age 78 of Sunman, Indiana passed away on February 22, 2019.  The daughter of John and Mary (nee: Bergman) Cochran was born on January 6, 1941 in Reseda, California.
Joanne attended Oxnard Union High School in Oxnard, California.  She married George R. Dever on January 6, 1957 and they were married for 62 years. Together, they raised four children. She worked as a secretary for the Carpenters Union 2042 and the Electricians Union 952 until she retired.  She was a member of New Testament Baptist Church, in Penntown, Indiana.
Joanne enjoyed spending her days quilting with her quilting group at church and sewing.  She enjoyed reading her favorite books and had a talent for baking and decorating cakes. Most of all, she loved spending time with her family and friends.
She is survived by her husband, George; children, John (Hiromi) Dever of Camarillo, CA, D. George Dever of Batesville, Douglas (Melinda) Dever of Brookville and Patricia Hinton of Orange Park, FL; 9 grandchildren and 17 great grandchildren.
In addition to her parents, she was preceded in death by her brother, Cecil Cochran and sister, Elizabeth Roach.
A Memorial Service will be Sunday, February 24, 2019 starting at 6pm at New Testament Baptist Church in Penntown.
Memorials may be given to New Testament Baptist Church.  Meyers Funeral Home is assisting the family.  Online condolences www.meyersfuneralhomes.com.