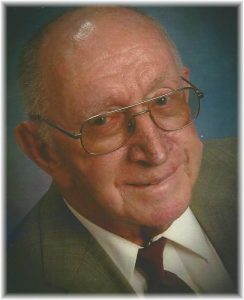 James Dale Lawrence of Decatur County went to be with the Lord on the 11th of February, 2019, at Margaret Mary Hospital in Batesville, Indiana.
Jim was born Oct. 20, 1931 to Claud E. and Wilma O. (Griffin) Lawrence of Sandusky, Indiana.
He was preceded in death by his parents; also preceding him was his sister, Dorothy L. Wolford; two nephews, Tim Wolford and Ron Wolford; and one grandson, Bert Shawn Houpey.
He is survived by his wife, Patricia S. Lawrence; three children, Pamela Kay Tucker (Donald), Cynthia Diane Dale (David), and Jeffery Dale Lawrence (Connie). He has six grandchildren, Michael J. Tucker (Kate), Andrea S.A. Roberts (Adam), Chris E. Houpey (Libby), Vanessa, Thomas, and David Lawrence. He is blessed with seven great-grandchildren, Mathew, Chandler, Kendra and Lucas Tucker, Carter and Chase Roberts and Weston Houpey. He also survived by three brothers, Gerald E. (Dot), Paul L. (Janet), and Mervin R. (Agatha); a brother-in-law, Maurice Wolford; several nieces, nephews, great-nieces and great-nephews.
Jim graduated from New Point High School in Decatur County. He spent three years and eight months in the U.S. Navy, serving during the Korean War on the U.S.S. Lindenwold (Land Ship Dock) where they played an instrumental role in the initial building of the Thule Air Base in Greenland. He was honorably discharged from the U.S. Navy in January 1955. He received the National Defense Service Medal, the Navy Occupation Service Medal, and the Good Conduct Medal. Upon being discharged he started working at Bohn Aluminum in Greensburg, Indiana. He began working there as a general laborer and after 36 years of service he retired in January 1991 as Plant Superintendent.
Jim and Patty were married on June 7, 1953. They were happily married for 65.5 years. They spent 62 years on Patty's family farm just south of New Point, Indiana. In 2012, they received the Indiana Hoosier Sesquicentennial Award for the farm, having been homesteaded since 1861.
According to Jim's wishes he was cremated and a memorial service will be held in his honor at 11 a.m. Saturday, March 2 at Batesville Christian Church, 1294 Columbus Avenue, Batesville, IN. Following the service, internment will be held at Rossburg Cemetery, SP County Road 850 E., Greensburg, IN. and will include military honors. In lieu of flowers, the family wishes for memorial contributions to be made to Our Hospice of South Central Indiana.