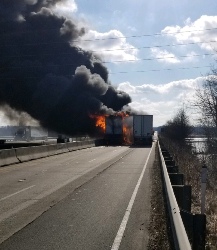 Jackson County, In. — A report from the Indiana State Police says three were killed in a multi-vehicle crash on I-65 southbound in Jackson County.
Around 10 a.m. a semi-truck driven by Cameron R. Haskett, 28, of Halethrope, Maryland, an SUV driven by John W. Mumma, 67, of Philo, Illinois, and a motor home driven by Glenn E. Cardelli, 57, of Minocqua, Wisconsin, were all slowed due to highway repairs.
An approaching semi-truck driven by Roger E. Woody, 46, of Mooresboro, North Carolina was traveling in the left lane, approaching the slowed traffic.  Woody failed to slow his vehicle and collided with the rear of the motor home driven by Cardelli.  The resulting chain reaction, pushed Cardelli's RV into the back of Mumma's vehicle.  Mumma's vehicle was then pushed into the rear of Haskett's trailer.  Woody's vehicle also collided with another semi-truck driven by Anatoliy M. Petrov, 43, Park Ridge, Illinois, that was traveling in the right lane of I-65 Southbound.
As a result of the collision, Glenn Cardelli, his wife Kathryn L. Cardelli, 57, and John Mumma were all killed in the crash.  None of the other participants were injured.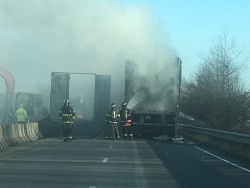 Due to the crash, the vehicles caught fire in the middle of the southbound lanes of I-65.  The southbound lanes of I-65 were closed near the 54 mile marker for approximately eleven hours for crash investigation and cleanup.  During the cleanup, traffic was detoured off of I-65 at exit 64 to State Road 11 and US 31.
The crash remains under investigation.  Toxicology results are pending at this time.