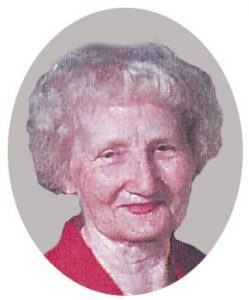 Viola M. Fullenkamp, age 91 of Batesville, died Sunday, February 10, 2019 at her home.  Born in Batesville on August 25, 1927, she is the daughter of Lydia (Nee: Cook) and Edward Vierling.  She married Eugene Fullenkamp October 14, 1946 at St. Joseph's Church in Covington, Kentucky and he preceded her in death October 3, 2006.  She was a member of St. Louis Church.
Viola was a stay at home mom, raising eight children.  She enjoyed baking coffee cakes and peanut chews for Gene to take to work and loved her children and grandchildren very much.  A devout woman, Viola was on the prayer line at church, calling others to pray for those in need.  She was devoted to the Blessed Mother and prayed the rosary regularly.
She is survived by daughters and son-in-laws Pam and Ski Gerdowsky of Batesville, Becky and John Quick of Batesville, Kathy and Gene Rosemeyer of Sunman; sons and daughter-in-laws Terry Fullenkamp of Sacramento, California, Randy and Irene Fullenkamp of Oldenburg, Jay and Linda Fullenkamp of Sunman, Dave and Patti Fullenkamp of Batesville; sister Betty Stein of Batesville; daughter-in-law Kathy Fullenkamp of Batesville; 24 grandchildren and 40 great grandchildren.  In addition to her husband and parents, she is also preceded in death by her son Tim Fullenkamp; sister Lillian Fullenkamp; brothers Meredith (Bud), Clifford and Larry Vierling and granddaughter Jill Gerdowsky.
Visitation is Saturday, February 16th, from 9 a.m. until noon at the Weigel Funeral Home.  Funeral services follow at 12:30 p.m. at St. Louis Church with Rev. Stan Pondo officiating with burial in the church cemetery.  The family requests memorials to New Horizons Rehabilitation Center or Our Hospice of South Central Indiana.