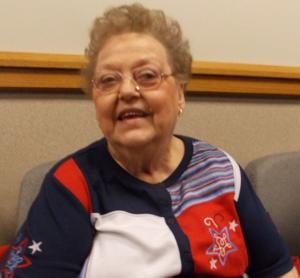 Geneva Hunt, 84 of Greensburg, passed away on Sunday, February 10, 2019 at the Decatur County Memorial Hospital. Geneva was born on March 9, 1934 in Salt Lick, Kentucky, the daughter of John and Elizabeth (Reffett) Ingram. She married Thomas Hunt on November 15, 1952 in Mt. Sterling, Kentucky and he preceded her in death on May 17, 2011.
Many will remember Geneva for her active role in the Decatur County Republican Party. Geneva served as County Auditor for 8 years, County Recorder for 8 years and Decatur County Council for approximately 50 years. She was a member of the Decatur County Republican Women's, the Greensburg Christian Church and the Delta Theta Tau sorority. In her spare time she enjoyed keeping up with politics and listening to Blue Grass music and George Jones.
Survivors include her children – Randall Hunt, Lisa Hunt and Jill (David) Richards all of Greensburg; one brother Raymond Ingram; her grandchildren – Abby Colson, Jody (Jeremiah) Westerfeld, Anna Richards, Stacy Richards and Eric Richards; and great granddaughters – Regan and Frann Westerfeld. She was preceded in death by her parents, her husband, one brother John Ingram Jr. and her sisters Elberta Pergam and Deloris Wills.
Visitation for family and friends will be held on Wednesday, February 13, 2019 from 11AM until the start of the Funeral Service at 1PM at the Gilliland-Howe Funeral Home, with Rev. Howard Wickersham officiating. Burial will follow at the South Park Cemetery. Memorial contributions may be made to Greensburg Meals on Wheels. Online condolences may be made to the family at www.gilliland-howe.com.