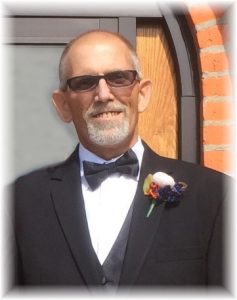 Clifford John Nordmeyer Jr., known to his friends and family as, Kip, passed away at home in Morris, Indiana on Sunday, February 10, 2019 surrounded by his family.  The son of Clifford Sr. and Gerry (nee: Hane) Nordmeyer was born on August 23, 1969 in Batesville.  He was 49 years old.
The 1988 Batesville High School graduate proudly served in the US Navy during Desert Storm. Kip was a dedicated worker for many years at the Morris Feed Mill until it closed. After that, he worked in the shipping department at Wood-Mizer.  Kip was an outdoorsman.  He loved going hunting and fishing.
He will be dearly missed by his wife, Charlene; children, Victoria Nordmeyer, Levi (Michaela) Nordmeyer, Leah Nordmeyer, Nicholas McConnell, Ashley White and Matt White; two grandchildren, Krystal and Cody; two nieces, Tegan and Lucy Schmitz; brother, Ben (MaryAnne) Nordmeyer; sister, Abby (Scott) Schmitz along with his parents, Clifford Sr. and Gerry.
He was preceded in death by his infant sister, Rene' Marie Nordmeyer.
Visitation will be Friday, February 15, 2019 from 4-7pm at Meyers Funeral Home, Batesville, assisted by the Indiana Patriot Guard. Mass of Christian Burial will be 10:00am on Saturday, February 16th, at St. Anthony Catholic Church in Morris.  Father Shaun Whittington officiating.  Burial to follow in the St. Anthony Church Cemetery with military grave side rites by conducted by the Prell-Bland American Legion Post #271 and the Batesville V.F.W. Post #3183. In addition, a Celebration of Life will begin at 2:00pm at Batesville Eagles, Aerie #1130.
Memorials may be given to the family c/o the funeral home.