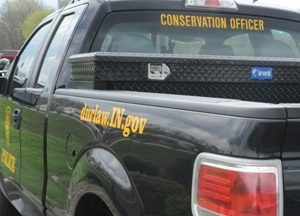 Seymour, In. — Officers from the Indiana Department of Natural Resources saved a man in swift water on the White River over the weekend.
Officers responded after a witness reported hearing a man screaming for help from  the river near County Road 300 North and the Shieldstown Covered Bridge around 7:42 p.m. Sunday.
Reports indicate Jerry Cash, 59, of Seymour, capsized his canoe after becoming tangled in a downed tree. At the time of his rescue Cash was clinging to limbs in six to eight feet of swiftly moving water.
Volunteer firefighter from Brownstown attempted to rescue Cash with a "throw bag rope", but he too far from shore. At 8:15 p.m. Cash was rescued with use of a watercraft owned by the Jackson County Sheriff's Department.
The subsequent investigation revealed the incident occurred while Cash was attempting to recover an abandoned canoe in the river on property he owns. Cash was not wearing a floatation device.
Officers involved in the rescue were Jackson County Deputies Mitch Ray, J. Mitch Ray, J. L. McElfresh and Brad Barker along with Indiana Conservation cpl. Nate Berry.