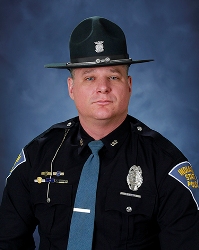 Versailles, In. — Indiana State Police Superintendent Douglas Carter announced that Trooper Zachariah Ruble, a Jackson County resident, is being promoted to sergeant to serve as a District Squad Leader with the Indiana State Police, Versailles District.
Sgt. Ruble is a 1999 graduate of Southwestern High School, Hanover, Indiana.  After high school he joined the United States Marines where he served over five years, achieving the rank of Sergeant in 2002.  During his time in the Marines, he was awarded the Marine Corps Combat Aircrew Wings and First Strike/Flight Air Medal for his actions in Afghanistan in 2004.
Sgt. Ruble attended the 65th Indiana State Police Academy and graduated in April 2006.  After graduation, he was assigned to the Seymour District of the Indiana State Police until its closing in 2010.  He was then transferred to the Versailles District.  He also served three years as a watch officer in the Indiana Fusion Center.
As a trooper, Sgt. Ruble has been a member of the Tactical Intervention Platoon, Honor Guard, and a field training officer.  He is certified as a Control Tactics, Taser, and Firearms Instructor.  He has been a core instructor at the Indiana State Police Academy for five years and recently served as a counselor for the 78th ISP Recruit Academy.
Sgt. Ruble is very active in his community.  He has coached football for the Seymour Youth Football League and the Seymour Middle School Football Team.  He has also coached baseball at Seymour Middle School and Trinity Lutheran High School.
Sgt. Ruble was promoted after completing the rigorous Indiana State Police promotional process which included performance evaluations, written testing, oral interview, and review by the Indiana State Police Superintendent.
Sgt. Ruble's new responsibilities include supervising and evaluating a squad of troopers who patrol the Versailles District.
Versailles District Commander Lt. Paul Adams recently stated, "Sgt. Ruble is deserving of his new position as a supervisor with the Indiana State Police.  His experience in the Marines and Indiana State Police Career has prepared him to lead troopers at the Versailles District. He truly represents the values of the Indiana State Police and I believe his experience and knowledge will be an asset in his new role."