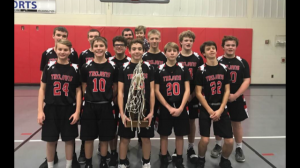 The Sunman Dearborn Trojans 8th Grade team won the SEI tournament in convincing fashion on Thursday night, defeating St. Louis by a final score of 49-27. The Trojans successfully defended their 7th grade title from the year before. All 11 Trojans were able to provide valuable minutes in the title game.
The Trojans faced a tough road to the championship, playing three straight road games in three days. They defeated South Dearborn in round one, Greendale in round two, and lastly St. Louis in the final round.
The Trojans were led in scoring by Carson Koelling who averaged 18 a game for the week, as well as Eli Aston who chipped in nearly 12 a game. Brody Bennett played great defense, guarding the other team's best player each night. Cole Wheat and Sam Bond played great team defense and chipped in important points in each game. Rhys Hofer, Hayden Werner, Brady Philhower, Drew Philhower, Jack Gierach, and Reid Caldwell each provided important minutes this week and were ready to work each time their number was called.
"I am so proud of this group of 11 young men. They dealt with a brutal schedule, injuries, and setbacks all season long, but in the end they came together and were playing their best basketball at the end of the year. Each player improved and got better every single day. These kids are a special group and I enjoyed every minute of coaching them."  Trojans Coach Thomas Meyer.
The St. Louis Cardinals 8th Grade Boys Basketball team were defeated by a good Sunman Dearborn Trojans team in the Championship Game of the SEI Tournament last night.
The Cardinals ended their regular season with an impressive 21-3 record! The Cardinals will now turn their attention to the Catholic Youth Organization (CYO) tournament which takes place on January 27th, February 3rd and February 10th.
We want to thank our St. Louis family and the Batesville community for all their support during this incredible season!
Courtesy of Cardinals Coach Ryan Schebler.