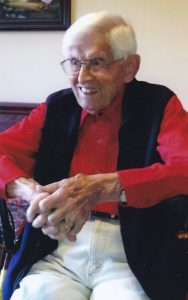 Clarence Edward Gunter, age 102, passed away, very early on Friday, January 18, 2019, at the Aspen Place in Greensburg. Clarence was born on June 29, 1916, the son of William Wesley and Esther Mary (Abplanalp) Gunter. He was the older of two children. He married Helen Naomi Hunteman on April 23, 1947, and she preceded him in death on July 19, 2004. Survivors include, three daughters, Mary (John) Wilson of Martinsville, Martha (Wayne) Peetz of near Napoleon, Betty (Bob) Hortemiller of Batesville; and one son Jerry (Nora) Gunter, near Napoleon, 14 grandchildren, and 11 great-grandchildren, and one sister, Hazel Steuri. He was preceded in death by his wife, Helen, and his son David Gunter, and two great-grandchildren, Anna and Josiah.
He was a graduate of Napoleon High School in the class of 1933. He enjoyed dairy farming, and being close to family. Clarence was a member of St. John's Lutheran Church in Napoleon. He and Helen loved to travel, and went to 48 States, to Europe and to the Holy Land. At age 89, he started taking art classes for oil and water and greatly inspired us with 80 beautiful and detailed paintings. He said he believes the only way to keep going is to look on the bright side, and that there is always something to look forward to. He will always be remembered as a hard-working and very loving father and grandfather.
A visitation for family and friends will be held at Gilliland-Howe Funeral Home on Monday, January 21, 2019, pm 4:00 pm to 7:00 pm. Funeral services will be held at St. John's Lutheran Church, Napoleon, Indiana, on Tuesday, January 22, 2019, at 11:00 am. Rev. Jack Dixon will be officiating. Burial will be in the St. John's Lutheran Cemetery. Memorial contributions may be made to the Napoleon Fire Department building project or St. John's Lutheran Church. Online condolences can be made to the family at www.gilliland-howe.com.