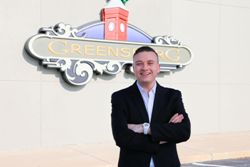 Greensburg, In. — Lifelong Decatur County resident and Republican Joshua Marsh has announced his candidacy for mayor of Greensburg.
Marsh is a graduate of Greensburg Community High School, Ball State University and is currently pursuing a law degree at the Indiana University McKinney School of Law. He has managed communications for statewide health initiatives and served as the coordinator for the Attorney General's Drug Abuse Task Force.
In his remarks Marsh said, "I have long believed my education and work experience was intended to prepare me for public service, especially if the opportunity ever came to serve my hometown."
Marsh says his focus is on four key areas.
Safer Streets
Improved Infrastructure
Community Investment
Better City Communications
Marsh also believes the airport expansion project is an important part of infrastructure and economic development. The airport provides a hub to support existing businesses and an opportunity to welcome potential corporate partners to the community.
"Make no mistake about it, we need to preserve Greensburg's 196-year heritage," said Marsh. "At the same time, we need to figure out how to develop, retain and attract more talent in our community. I intend to make Greensburg the city where everyone wants to live, work and play."