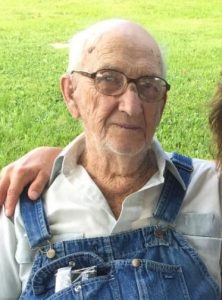 Louis J. Mauer, 96, passed away on Friday, January 11, 2019 at IU Methodist Hospital in Indianapolis.
Born, June 4, 1922 in Decatur County, he was the son of Jacob and Josephine (Berkemeier) Mauer.
Louis was veteran of WWII, serving in the Army from 1942 until 1945.  He was stationed in the Pacific and was awarded a Purple Heart in 1944.  He worked for Moorman Sawmill in St. Maurice and farmed for most of his life before retirement.
Louis was a member of St. Catherine of Siena Catholic Church in St. Maurice.  He was also a member of the American Legion Post 129 in Greensburg.
Louis married Catherine E. Schroeder on April 12, 1951 and she survives.
Survivors include, his wife; Catherine Mauer, Greensburg, 6 sons; James (Cheryl) Mauer, Batesville, John (Lori) Mauer, Greensburg, Jerome (Sue) Mauer, Greensburg, Philip Mauer, Greensburg, David (Marilles) Mauer, Greensburg, Brian (Lori) Mauer, Greensburg, 7 daughters; Barbara (Randy) O'Dell, Greensburg, Deborah (Robert) Schott, Indianapolis, Jane (Phillip) Wallpe, Greensburg, Joan (Butch) Riedeman, Greensburg, Cynthia (Phil) Geis, Greensburg, Jeanne (Jeff) Loechle, Greensburg, Beth (Colby) McCorkel, Carmel, 31 grandchildren, and 43 great grandchildren.
He was preceded in death by his parents, two brothers; Leonard and Ed Mauer, two sisters; Dorothy and Marie Mauer, and two grandchildren; Emily Mauer and Ben McCorkel.
A rosary service will begin at 3:30 pm on Monday, January 14, 2019 at Porter-Oliger-Pearson Funeral Home followed by visitation until 8 pm.
Visitation will also be from 10-11 am on Tuesday, January 15, 2019 at St. Catherine of Siena, St. Maurice followed by a funeral mass at 11:00 am officiated by Rev. Bill Ehalt.
Burial and military graveside rites will follow at St. Maurice Catholic Cemetery.
Memorials can be made to St. Catherine of Siena Catholic Church.
Online condolences can be made to the family at www.popfuneralhome.com