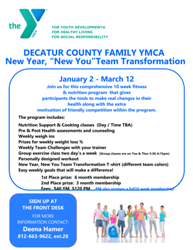 Greensburg, In. — The Decatur County Family YMCA is offering a comprehensive 10-week fitness and nutrition program to get 2019 started.
The program includes cooking and nutrition classes, weekly weigh-ins, team challenges, tailored workouts, goals and a "New Year, New You Team Transformation" T-shirt.
Prizes and incentives are also offered.
For more information please call 812-663-9622.