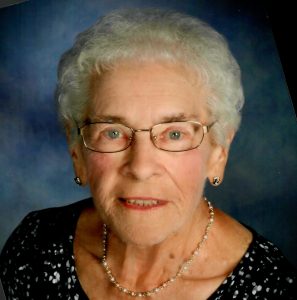 Alice Wuestefeld (nee Eckstein), age 85 of St. Leon, Indiana passed away Tuesday, January 8, 2019. She was born December 20, 1933 to Amand and Mary Eckstein in St. Nicholas, Indiana. On September 7, 1953 she married Walter Wuestefeld at St. Nicholas and were married for 56 years. Alice and Walter had five children together.
She was preceded in death by her husband, Walter, two brothers Cornelius Eckstein and Albert Eckstein, and one sister Stella Doerflein.
Survivors include two sons, Dale Wuestefeld of Nesbit, Mississippi and Don (Susie) Wuestefeld of Franklin, Tennessee; three daughters, Marilyn (Nick) Mathioudakis of Zionsville, Indiana, Gerilyn (Tim) Chaffee and Carol (Jody) Geier both of St. Leon, Indiana. She also leaves behind seven grandchildren, Rob, Sophia and Joe Mathioudakis, Taylor Chaffee, Derek and Alexis Sturgill and Caige Geier. Other survivors include two sisters Verena Fette of New Alsace, Indiana and Matilda (Don) Nordmeyer of Cincinnati, Ohio; three brothers, Edmund (Thelma) Eckstein and Father Francis Eckstein both of Sunman, Indiana, Walter (Joan) Eckstein of Morris, Indiana and two sisters-in-law Jean Eckstein of Sunman, Indiana and Peggy Rolfes of Harrison, OH and numerous nieces and nephews.
Visitation will be held at Andres-Wuestefeld Funeral Home on Saturday, January 12 from 10:00 a.m. – 12:00 p.m. Rosary will begin at 9:45a.m. Mass of Christian Burial will follow visitation at All Saints Parish, St. Joe's Campus at 12:30 p.m., immediately followed by burial.
Memorials can be made to St. Leon Fire Department or All Saints Parish. To offer condolences or sign the guestbook online, please visit www.andres-wuestefeldfh.com. The staff of Andres-Wuestefeld Funeral Home is honored to serve the family of Alice Wuestefeld.