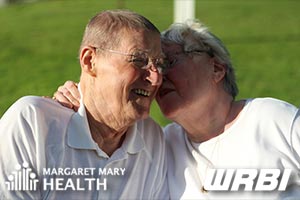 A Big Thank You to Our Sponsors!
A Light Now
Alzheimer's Association of Greater Cincinnati
Arbor Grove Village
Batesville Historical Society
Batesville Lions Club
Bath Fitter
Better Business Bureau
CapTel Outreach
Caring First Home Health
Chateau of Batesville
ClearCaptions
Coalition for a Drug-Free Batesville (Drug Take Back)
FCN Bank
Gentle Dentist
George's Family Pharmacy
George's Insurance
GutterShutter
Indianapolis Vets Center
Insure Choices-Nancy Konradi
Konradi Insurance Services LLC
Lifetime Resources
Lohrum Electrical
Manderley Health Care Center
Margaret Mary Health – Cancer Center
Margaret Mary Health – Cardiopulmonary
Margaret Mary Health – Home Care & Hospice
Margaret Mary Health – Occupational Health & Wellness Center
Margaret Mary Health – Orthopaedic Services
Margaret Mary Health – Outpatient Clinic
Margaret Mary Health – Outpatient Rehab Center
Margaret Mary Health – Population Health
Margaret Mary Health –Community Health Improvement
Margaret Mary Health Foundation
Margaret Mary Health-Med/Surg
Margaret Mary Health-Sleep Lab
My Gorilla Garage
Personal Touch Home Care
Ripley County Health Department
Ripley County Veterans Service
Ripley Crossing
SHIP (State Health Insurance Program)
Social Security Administration
Southeastern Indiana YMCA
Southern Care Hospice
St. Andrews Health Campus
The Waters of Batesville
Voldico Insurance Tekulve-Vankirk Agency
Young Living Essentials Oils-Shelia Woods
Sponsored by Margaret Mary Health & WRBI
When: Wednesday, April 17th 2019 8am-Noon
Where: Knights of Columbus Hall – Batesville
Free Admission – Free Samples
Free Health Screenings & Door Prizes
The Senior Expo will feature information for all seniors in Southeastern Indiana — everything from trust information, investment information, screenings, home health care, preplanning for funerals, wills and living wills, how to apply for free medications, and much more!
The expo will also feature things seniors can do to stay active: by volunteering, joining organizations, and attending support groups.
Rx Takeback
The Coalition for a Drug-Free Batesville, Margaret Mary Health and the Batesville Police Department are partnering to provide an Rx Takeback of unused and expired medications during the Senior Citizen Expo. Time to clean out your medicine cabinet and dispose of your mediation and bottles safely!