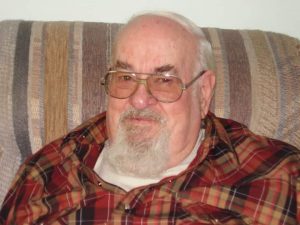 Stanley Colwell, of Brookville, was born on August 3, 1939 in Confluence, Leslie County, Kentucky, the only child to Wes and Nannie Howard Colwell.  He served his country with the United States Army and then the Army National Guard.  Stanley married Sandra K. Metcalf on April 25, 1970 at Plum Grove Pentecostal Church in Brookville.  He worked at Batesville Casket and was a former member of REACT-Civil Defense-EMA.  Stanley worked security at sporting events, festivals and served as a special deputy sheriff for a number of years.  He was a known car enthusiastic and enjoyed building model cars and fishing.  On Saturday, December 29, at the age of 79, he passed away at Reid Hospital.
Those surviving who will cherish Stanley's memory include his wife, Sandra K. Colwell; children, Alan Colwell, Vickie Thorp, and Stephanie Colwell, all of Brookville; three grandchildren, Austin Gough, Kiara Thorp, and Jaedon Thorp, and two great-grandchildren, Darcey and Oliver Gough.  He was preceded in death by his parents.
A memorial service in Stanley's honor will be held on Thursday, January 3, 2019 at 7 p.m. at Cook Rosenberger Funeral Home, 929 Main Street, Brookville.  Friends may visit with the family from 5 until 7 p.m.
Memorial donations can be directed to the family.  To sign the online guestbook, please visit www.cookrosenberger.com.  The staff of Cook Rosenberger Funeral Home is honored to serve the family of Stanley Colwell.