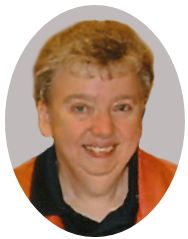 Dolores M. "Dee" Schwegman, age 60 of Batesville, died Saturday, December 29, 2018 at Margaret Mary Health.  Born December 3, 1958 in Batesville, she is the daughter of Marcella (Nee: Rennekamp) and Lawrence Schwegman.  Dee owned and ran a children's daycare for 31 years.
Family was important to Dee and she dearly loved her nieces, nephew, great niece and great nephews.  She enjoyed spending time with them and attending their sporting events.  She also liked making crafts for them.  Other interests included collecting carousels and for years she and Marilyn were regulars at the St. Louis Bingo on Thursdays.  A gifted poet, Dee composed countless poems throughout her life.  A portion of one dedicated to her mother will be used on her prayer card.
Dee is survived by her sister Marilyn Schwegman of Batesville; niece Sharon (Andy) Eckstein of Sunman, Indiana; nephew Mike (Amanda) Schwegman of Oldenburg; sister-in-law Carol Schwegman of Batesville; great niece Laura Schwegman and great nephews Lawrence Schwegman, Ayden Eckstein and Connor Eckstein.  In addition to her parents, she is also preceded in death by her brother Louis Schwegman and sister-in-law Mary Schwegman.
Visitation is Wednesday, January 2nd, from 4 – 7 p.m. at the Weigel Funeral Home.  Funeral services are 10 a.m. Thursday, January 3rd, at St. Mary's of the Rock Church with Rev. Carl Langenderfer O.F.M. and Rev. Shaun Whittington officiating.  Burial will follow in the church cemetery.  Memorials may be made to Phi Beta Psi Sorority Cancer Research or to the funeral home to help with expenses.