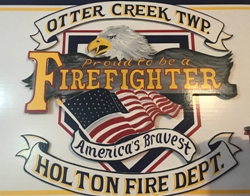 Holton, In. — The Ripley County Community Foundation, Inc. has proactively awarded a $5,000 Sally Morris Impact Grant to the Holton Volunteer Fire Department for the establishment of a sustainability fund.  The Sally Morris Impact Grant Program was established in 2014 in honor of Sally Morris.  Mrs. Morris was a long-time Executive Director of RCCF who impressed upon the Board of Directors that the needs of the community were ever-changing, and did not always fit within the foundation's grant eligibility timeframes or funding restrictions.  The Sally Morris Impact Grant Program was designed to provide the Board of Directors with the flexibility to address larger scaled needs more effectively.
The need for a sustainability fund for the Holton Fire Department arose earlier this year when the department was planning the construction of a new fire station.  In 2012, a tornado struck the town of Holton and caused the death of three people and extensive damage, including the destruction of homes and businesses.  One goal of the Holton Long-Term Recovery efforts is to construct a community storm shelter within town limits; a new firehouse may be the opportunity to bring that goal to realization.  However, the Fire Department needed assistance in leveraging State funding for the project, the timing of the project prohibited other funding sources, and the specific need did not fit within RCCF's large grant guidelines.  Thanks to the Sally Morris Impact Grant Program, RCCF was able to provide the needed assistance and create a long-term source of funding for the prevention of, and fighting of fires, in Holton.
Executive Director of the Ripley County Community Foundation, Amy Streator, states, "The Ripley County Community Foundation wants to provide sustainability for the Holton Fire Department because we value the emergency services provided and understand the substantial benefit a new firehouse could have on the residents of Holton.  Additionally, the partnership this sustainability fund forges between the Community Foundation, the fire department, and the Holton community is invaluable and is another way the community foundation serves Ripley County."
To donate to the Holton Fire Department Sustainability Fund, or to donate to the cause or charity of your choice, contact the Ripley County Community Foundation at 13 E. George Street, Suite B, Batesville, IN 47006, (812) 933-1098 or go online here.