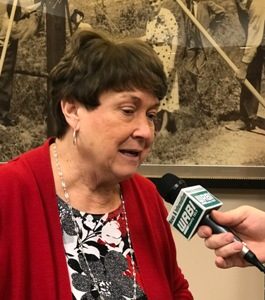 Indianpolis, In. — Republican state senator from Oldenburg Jean Leising has been appointed by Senate President Pro Tem Rodric Bray to chair the Senate Committee on Agriculture for the 121st Indiana General Assembly.
"I am thankful to have the opportunity to continue serving as chair of this committee," Leising said. "Agriculture is a key industry in our state, so it is important that we understand and address issues facing Indiana farmers today. I am ready to begin discussing and listening to testimony on these important topics to help improve our communities and state."
Leising will also serve as ranking member of the Senate Committee on Natural Resources and as a member of the Senate Committees on Commerce and Technology; Education and Career Development; Health and Provider Services; and Utilities.
Bray shared his thoughts on Leising's committee assignments.
"We are excited to have someone as capable as Sen. Leising playing these leadership roles in the Indiana Senate," Bray said. "Her skill and experience are invaluable when it comes to tackling some of Indiana's toughest problems. She will serve her district and Indiana well in the roles she has been given."
Committee hearings can be viewed online by visiting iga.in.gov. Legislative calendars, agendas, vote tallies and proposed legislation can also be found on this site.
The 2019 legislative session ceremonially began Tuesday, Nov. 20, with Organization Day. Legislators will reconvene Jan. 3 and, by law, must conclude the legislative session no later than April 29.