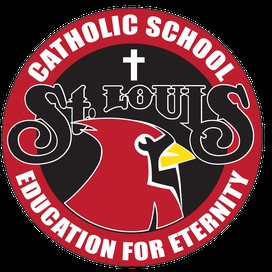 St. Louis 5th Grade Boys basketball finished their season Wednesday night against Greendale Middle School. Greendale started out on fire and took a commanding lead, ending the first quarter ahead 19-4. The St. Louis boys refused to give up and outscored Greendale 15-4 in the second quarter, Greendale was still winning at halftime 23-19. The Cardinals outscored the Tigers again in the third quarter, but Greendale held on to the lead 29-28. The Cardinals came out strong in the fourth quarter and quickly gained the lead. The St. Louis defense held Greendale to only 3 points and St. Louis won with a final score of 37-32.
Jaiden Kuria lead the Cards in scoring with 16 points, Ben Greiwe and Caleb Mohr each had 8 points, Tyler Reder had 4 points and Jack Freeland had 1 point.  Aiden Greiwe, Brady Wonnell, Vincent Meneses, Leo Canessa and Sam Richardson played outstanding defense. It was great to see the Cardinals end the season with a win. This group of boys played great together and should be extremely proud, their record was 10 wins 5 losses. Courtesy of Cardinals Coach Tim Reder.
The 6th Grade St. Louis Cardinals took on Greendale on Wednesday, December 12th.  The Cardinals ended up losing the game by a score of 37-11.  The boys were led in scoring by Ben Miller with 7 points, followed by Ryan Duerstock and Sully Hill each with 2 points.  Max Amberger and Ryan Duerstock led the team in rebounds with 5 each followed by Adam Meer with 4, Santiago Schutte with 3, Sam Laloge with 3, Sully Hill with 3, Christian Mack with 2, and Marc Meneses and Max Richardson with 1.  Mack led the team in steals with 3.  Henry Wanstrath, Zavier Tekulve, and Max Amberger each pitched in with 1 assist a piece.  The Cardinals finished their season with 4 wins and 13 losses, but definitely showed improvement as the year went on.
Courtesy of Cardinals Coach Ryan Tekulve.