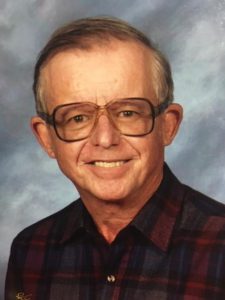 Jim Kunkel, 84, of New Alsace, passed away on Tuesday, December 11, 2018. Jim was a people person and never met a stranger. He was a jokester and made friends with everyone he met. Every year Jim would tend to his vegetable garden and harvest his prize potatoes. He also loved to hunt and fish. Jim was an avid card player and would always play euchre and pinochle. He and his wife Marilyn enjoyed dancing and would go to Winter Gardens in E-Town as well square dancing. Jim was a member of the North Dearborn Conservation Club and Eagles of Batesville.
Jim is survived by his loving wife Marilyn to whom he was married for 57 years. He also leaves behind his son Kenny Kunkel of Weisberg, daughter Jenny (Eldon) Steinmetz of New Alsace, son-in-law Bobby Tallarigo, 5 grandchildren Amanda, Kendra, and Karlie Kunkel and Emily and Anna Tallarigo, and brother Irvin (Esther) Kunkel of Batesville. Jim is preceded in death by his daughter, Sharon Tallarigo, sister Rita Williams, and parents Lena and Edward Kunkel.
Services for Jim will be held on Saturday, December 15 beginning with Rosary at 8:30 a.m. at Andres-Wuestefeld Funeral Home. Visitation will follow until 11:15 a.m. and Mass of Christian Burial will be held at All Saints Parish, St. Paul's Campus at 12:00 p.m.