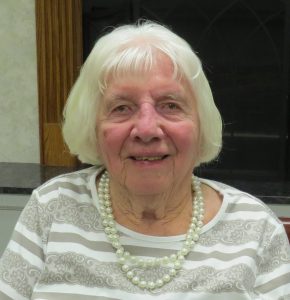 Ethel M. Bruegge, 92, of Aurora, Indiana, passed away Tuesday December 11, 2018 at Ripley Crossing in Milan, Indiana.
She was born October 25, 1926 in Bridgetown, OH, daughter of the late Michael Martini and Florence (Heitz) Martini.
Ethel 's faith was very important to her. She lived her life in a way that showed her faith others around her. She enjoyed playing cards, bird watching and attending her grandchildren's activities. She loved anything chocolate and was a full fledged "Chocoholic"
Ethel is survived by her children, Maria (Ron) Perry of Madison, IN, Martin (Cindy) Bruegge of Aurora, IN., Marilyn (Marc) Yoe of Moores Hill, IN; sisters, Edna Martini (SOF) of Oldenburg, IN, Marcella (Al) Preston of Ft. Meyers, FL; Sister-in-law, Mary "Jean" Martini of Harrison, OH; grandchildren, Ron (Jennifer) Perry Jr., Jeremy (Shannon) Perry, Curtis (Doreana) Bruegge, Kevin (Ashley) Bruegge, Andy Bruegge, Shelbi Yoe and Sydney Yoe; 10 great-grandchildren.
She was preceded in death by her parents, husband, Francis J. Bruegge, siblings, Hilda Marois, Edith Martini (SOF) , Eugene Martini, Marian La Mantia, Wilbur Martini, and Vincent Martini, as well as four infant children.
Friends will be received Monday, December 17, 2018, 9:00 am – 10:45 am at the St. Charles Catholic Church, 201 W. Ripley Street, Milan, Indiana, 47031.
Mass of Christian burial will be held at 11:00 am at the church, with Father Adam L. Ahern officiating.
A reception meal will be held after Mass. Then interment will follow in the St. Joseph's Old Cemetery, 3819 W. 8th St., Cincinnati, Ohio 45205.
Contributions in lieu of flowers may be made to Ripley Crossing Activity Fund or American Macular Degeneration Foundation. If unable to attend services, please call the funeral home office at (812) 926-1450 and we will notify the family of your donation with a card.
Visit: www.rullmans.com