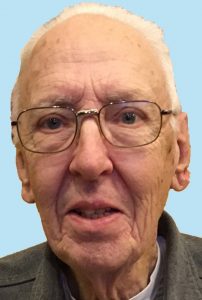 Charles M. "Bud" Steuver, 89, of Aurora passed away Monday December 10, 2018 at Ridgewood Healthcare in Lawrenceburg.  He was born Thursday June 6, 1929 in Clay Township, Dearborn County, the son of William Leonard and Mildred Mary (Snyder) Steuver.  Charles graduated from Lawrenceburg High School and Indiana State University with a double major in music and history.  He started his teaching career in Dillsboro 1951-1956, as the band director and music teacher for all 12 grades. He then went to Danville, Indiana for 1 year and then was band director at Lawrenceburg High School until 1971.  At that time, he started teaching general education and social studies at the Aurora Jr. High School until his retirement in 1984.  Charles was an accomplished musician playing the alto, tenor, and baritone saxophones, along with the string bass and clarinet.  He played in both the Terre Haute and Indiana State University Symphonies.  He also had played in various dance bands in his early career.  In later years, he loved working on cars, camping, and traveling.  He enjoyed John Wayne movies and was a Civil War buff who enjoyed traveling to the locations of where the different battles had been fought. He also knew the history behind every one of those battles.  Charles was a member of the First Presbyterian Church at Aurora and was a former member of the Hopewell Presbyterian Church and Hopewell F&AM Masonic Lodge in Dillsboro.
Survivors include daughter, Linda K. (Dennis) Schmidt of Bright, sons Douglas P. (Beverly) Steuver of Mustang, Oklahoma, Joseph W. Steuver of Beaver Creek, Ohio and Thomas A. (Lisa) Steuver of Bright, sister Elizabeth Ferber of Ft. Myers, Florida, grandchildren Nicholas, Jacob, Michelle, Olivia, Victoria and Charles Steuver, James Thatcher II, Jillian Brown, Jennifer Caldwell, Stephanie Carter, Stephen Thomas, Melissa Grijalva, Craig Schmidt, Tyler Schmidt, Chelsea Eckstein, 15 great grandchildren, and a host of friends and former students.
A service celebrating his life will be 11AM Friday December 14, at Filter-DeVries-Moore Funeral Home in Dillsboro with Pastor Robert Northcutt officiating.  Burial will follow in Oakdale Cemetery at Dillsboro.  Family and Friends may gather to honor and remember Charles Thursday 5-8 PM also at the funeral home.  Memorials may be given in his memory to the First Presbyterian Church of Aurora or the Hopewell Presbyterian Church in Dillsboro. Filter-DeVries-Moore Funeral Home entrusted with arrangements, 12887 Lenover Street, Box 146, Dillsboro, Indiana 47018, (812)432-5480. You may go to filterdevriesmoorefuneralhome to leave an online condolence message for the family.