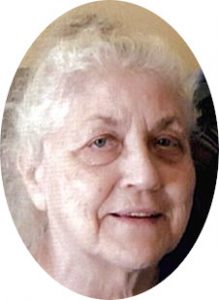 Ruby Spurlock, 76, of Milan passed away Saturday, December 8, 2018 at Manderley Health Care Center in Osgood.  Ruby was born Tuesday, April 28, 1942 in Knott County, Kentucky the daughter of Curt and Alta (Sloan) Short.  She married Floyd Spurlock June 15, 1957 and he preceded her in death October 23, 2016.  She was a homemaker, enjoyed cooking, singing, her flowers and raising her children and grandchildren.
Ruby is survived by sons Curtis (Angie) Spurlock and Alex (Lisa) Spurlock both of Osgood, daughters Mary Dall of Versailles, Genevia (Mike) Hoagland of Madison, Gracie (Rich) McIntosh of Osgood, brother Carnell Short of Milan, sisters Arlene Mundinger of Florida, Lorraine Ernst of Richmond, Coriene Hammond of Milan, Racine Robinson of Milan, Ida Jane Bischoff of Milan, Linda Gunter of Milan and Marletta Green of Lawrenceburg, 14 grandchildren and 15 great grandchildren.  She was preceded in death by her parents, husband, daughter Leado Jane Lewis, 2 brothers and 3 sisters.
A service celebrating her life will be held 10 AM Thursday, December 13 at Laws-Carr-Moore Funeral Home in Milan.  Burial will follow at Little Memory Cemetery.  Family and friends may gather to honor and remember Ruby 5 – 7 PM Wednesday, December 12 also at the funeral home.  Memorials may be given in honor of Ruby to the American Cancer Society.  Laws-Carr-Moore Funeral Home entrusted with arrangements, 707 S Main Street, P.O. Box 243, Milan, Indiana 47031 (812)654-2141.  You may go to www.lawscarrmoore.com to leave an online condolence message for the family.