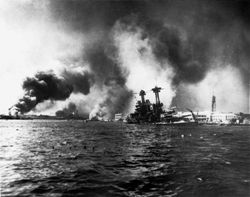 Batesville, In. — 
Seventy-seven years ago today the Imperial Japanese Navy conducted a surprise attack on the U.S. Naval base on Pearl Harbor Hawaii. The attack damaged eight warships, four ships sunk, destroyed 188 aircraft and killed more than 3,500 residents and service members.
The attack began at 7:48 a.m. local time and included fighters, level & diver bombers, bombers and torpedo bombers. The Japanese lost 29 aircraft, five midget submarines and 64 service members were killed.
Soon after the attack the United States officially entered World War II.