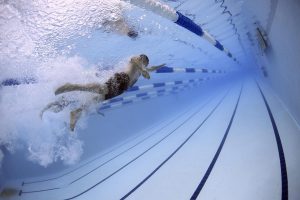 The EC AquaTrojans remain undefeated hosting the Milan Indians on Teacher Appreciation Night.  EC Girls won 121-43 while the EC Boys were victorious 112-60.
Individual winners include Mackenzie Schantz-200 Freestyle; Jackson Ketcham-200 Freestyle, 500 Free; Olivia Nixon-200 IM, 100 Free; Jacob Weber-200 IM; Caroline Walters-50 Freestyle; Aly Bailey-1 meter diving; John Crawley-1 meter diving; Kyra Hall-100 Fly, 500 Free; Nick Weber-100 Free, 100 Back.
EC won all 6 relays.
EC plays host for the East Central Relay Invitational on Saturday as 5 teams swim for the chance to take home the coveted t-shirts.  The actions starts at 11 AM.
Go AquaTrojans.
Courtesy of AquaTrojans Coach Brandon Loveless.