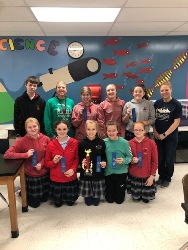 Batesville, In. — The St. Louis School seventh grade recently participated in the "Corn Belt Thinking Cap Competition."
The digital academic competition challenges students to work as a team answering general knowledge questions against other schools from Indiana, Ohio, Illinois, and Missouri.
The team from St. Louis made up of Kate Weber, Marco Canessa, Sady Hirt, Madison Wanstrath, Sadie Wachsman, Lilly Schebler, Megan Batta, Rhea Miller, Claire Saner, and coaches Diane Jones and Koehler Flaspohler earned first place.
These students demonstrated exceptional teamwork answering the questions.