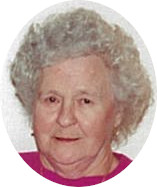 Margaret J. Henson, 92, of Moores Hill passed away Wednesday, December 5, 2018 at her home. Margaret was born Wednesday, February 3, 1926 in Cincinnati, Ohio the daughter of Frank and Jane (Millward) Etzel.  She was a member of Christ Church in Cincinnati, a past member of the Milan Legion Auxiliary and worked for Dearborn County Hospital in central supplies department.  She enjoyed crocheting, baking cookies and candies for the military around Christmas, loved watching westerns and WWE on TV.
Margaret is survived by son Raymond (Sharon) Rodmaker of Moores Hill, 7 grandchildren, many great grandchildren and 1 great great grandchild.  She was preceded in death by her parents, son Frank Rodmaker, daughter Sandy McFarland and brothers Frank and Tom Etzel.
Funeral service will be held at the convenience of the family.  Memorials may be given in her honor to the American Breast Cancer Society.  Sibbett-Moore Funeral Home entrusted with arrangements, P.O. Box 156, Moores Hill, IN 47032, (812) 744-3280.  You may go to www.sibbettmoore.com to leave an online condolence message for the family.