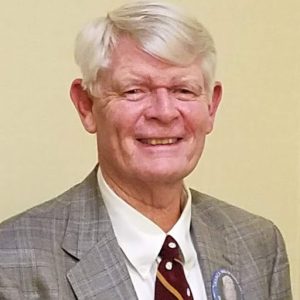 James Richard Hughes of Brookville, was born on November 16, 1944 in Connersville, a son to Russell and Mollie Nolan Hughes.  He married Mary Lou Riggins on July 27, 1968 at Bethlehem Lutheran Church in Indianapolis and together they raised 4 children.  Jim also had a very large sports family, having influenced many kids over 50 years in Franklin County coaching baseball, golf, cross country and boys and girls basketball.  His unforgettable attention to detail with the baseball field maintenance and piercing whistle will never be forgotten! Jim was a member of the Brookville United Methodist Church, the Indiana Baseball Coaches Hall of Fame and the Indiana Baseball Coaches Association where he served as President in 1983.  He sponsored the Key Club for many years and was inducted into the Franklin County High School Hall of Fame in 2015.  In his spare time he enjoyed attending sporting events (Notre Dame, Reds, and golfing events) and studied the history of Brookville and Fairfield. He also loved mushroom gathering and being out in nature.  Jim will forever be remembered by his family as very patient, caring, loving man who would do anything for his wife, children, family, friends and strangers.   On Monday, November 12, 2018 at the age of 73 he passed away unexpectedly at Margaret Mary Health in Batesville.
Those surviving who will cherish Jim's memory include his loving wife of 50 years, Mary Lou Hughes; children, Scott (Michelle) Hughes of Shelbyville, Greg Hughes of South Bend, Amy (Ben) Jones of South Bend, and Melissa Hughes of Chicago; 7 grandchildren, Todd, Lance, Cole, Blake, Ava, Mya and Deo; brothers and sisters-in-law, Nancy and Joe Wallace, and Susie and Jim Peters.  He was preceded in death by his parents.
Friends may visit with the family on Friday, November 16, 2018 from 4 until 9 p.m. at the Franklin County High School gymnasium.  A Celebration of Life will be held on Saturday at 10 a.m. at the high school.  Private burial will follow in Shelbyville.
In lieu of flowers memorial donations can be directed to the Brookville Foundation at P.O. Box 184, Brookville IN 47012, or to a grant/scholarship of choice in care of the Franklin County Community Foundation at www.franklincountyindiana.com or by mailing to 527 Main Street, Brookville.  To sign the online guestbook please visit www.cookrosenberger.com.  The staff of Cook Rosenberger Funeral Home is honored to care for the family of Jim Hughes.