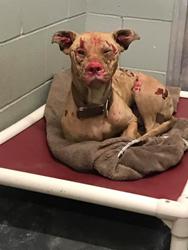 Shelbyville, In. — Officials in Shelby County say the gravely injured dog, Justice is recovering and they are still looking for any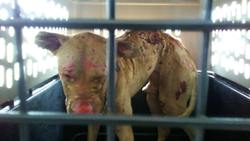 information to determine what happened.
The dog was reported to the Shelbyville/Shelby County Animal Shelter Friday near the intersection of County Roads 900 North and 400 West with severe chemical burns. Justice is not microchipped and his collar was hanging as if he once fit into it.
Justice is sedated in an animal hospital in Indianapolis receiving fluids.
Information can be emailed to cbrowder@cityofshelbyvillein.com or call 317-392-5127. Officials say ANY information could help solve this mystery.