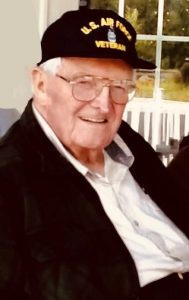 Paul O. Alford 88, of Aurora, Indiana, passed away Sunday October 21, 2018 at Forest Park Health Campus in Richmond, Indiana.
He was born April 30, 1930 in St Louis , MO, son of the late Murray Alford and Elenor Alice (Kemp) Alford.
Paul was raised in Elkhart, Indiana and was a 1948 graduate of Elkhart High School. He enlisted in the U.S. Air Force in 1950 during the Korean War.
In 1954 Paul began his career in law enforcement as an Indiana State Trooper and moved to Aurora. In 1974 Paul retired from the ISP as Detective Sergeant. Paul continued his life of public service as Mayor of Aurora, Indiana for two terms. He and his wife, Jacquline were co-owners of Alford's Coins. He loved Aurora, "River City" and believed it to be one of the most beautiful and historically rich areas of America.
Paul was a member of the Aurora Masonic Lodge, Aurora American Legion and the FOP. Paul attended the Aurora First Presbyterian Church.
Paul is survived by his sons, Gilbert Alford of Richmond, VA. Lee Williams of Duluth, GA, Tim Alford of Muncie, IN; daughter, Jerrilyn (Bill) Longcamp of West Chester, OH; brother, William Moore of Elkhart, IN; sister, Mary (Orin) Kilmer of Monroe, OH; grandchildren, Kyle, Lisa, Kelsey, Lauren, Evan, Hanna, Emily, Sam and Jacob; 15 great grandchildren and several nieces and nephews.
He was preceded in death by his parents, loving wife of 46 years, Jacquline E. (Speckman) Alford, a brother and two sisters.
Friends will be received Friday, October 26, 2018, 4:00 pm – 8:00 pm at the First Presbyterian Church Aurora, 215 Fourth Street, Aurora, Indiana.
Services will be held at the church on Saturday October 27, 2018 at 11:00 am with Pastor Dana Stout officiating.
Interment will follow in the River View Cemetery, Aurora,, Indiana. Military graveside services will be conducted by members of local Veterans Service Organizations.
Contributions may be made to the Hillforest Historical Society. If unable to attend services, please call the funeral home office at (812) 926-1450 and we will notify the family of your donation with a card.
Visit: www.rullmans.com